I wouldn't consider myself a heavy spender. That being said, the last couple of months were way more expensive than my usual crazy, so I decided to take February to reevaluate my spending. This also came in the wake of 101 medical bills from October when pneumonia tried to kill me. Healthcare in America: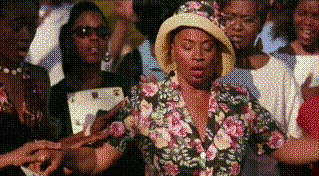 When I first got the idea to take a month off from unnecessary spending I wasn't really sure what the outcome would be. I had to stay away from thrift stores because let's be honest: #addicted, and I had to start making some changes to my routine. Here's how this ish went down:
Think About Routine The Night Before
The LAST thing most people want to think about at night is the fact that they're going back to work the next day. That being said, this actually can save quite a big of cash. Since I work in the middle of downtown Seattle there are a lot of temptations for food places that eat up your paycheck before it ever hits your back account. So, every night, while I'm cooking dinner (this has also helped to inspire my cooking haha) I pack a lunch. Just like good 'ole K-12. It might seem childish, but it's saving my adult monies so I can use them for adult things…like comicon tickets. Duh.
Start Caring About Other People More
One of the things I wanted to focus more on during this month was to start putting money toward other people. But I wanted this to be very intentional and targeted, not just passing out money on the street (although there is a time and place for that). For the past couple of years I've been following my friend Stella's journey as she's continued building her non-profit 22Stars. What they do in Uganda is absolutely incredible, and I've wanted to support them for so long…but I've never had finances to back that up. Well. I finally did it. I'm SO excited to now be a long-term education sponsor for a little Ugandan girl. I would HIGHLY suggest looking at the profiles of other children who still need sponsors. The fact that $20/month sends a child to school is just crazy.
Stop Going To Thrift Stores
Okay, so obviously I love thrifting and there's no way that I'll stop entirely going to thrift stores. But for the month of February I decided to be more intentional about going, and so far I haven't gone at all. There's a simple reason for this fact: I don't need anything. And while it's more of a hobby than anything else for me, I always want to be really concious about managing my habit so it doesn't go down the road to crazy. I'm not trying to star in Hoarders.
Reminders Of What ACTUALLY Makes Me Happy
While spending money is sometimes necessary for making some magic happen, a lot of the most beautiful things in life are free…or, at least, I already have what I need to make them happen. For example:
Hot cups of tea
Knitting
Cuddling up under blankets
Painting
Cooking
Gardening
Writing
Reading
All of these things make me super happy, but don't actually cost me a whole lot of money (if any). When I'm stressed, bored, or just looking for something to do out I've turned to doing one of these things, rather than surfing Amazon for useless Pusheen stuffies that I just don't need…or do I?
Spend More Time With People
People. Gross. Yeah, so I'm a pretty hardcore introvert, so there are like seven people I like in the whole world. But, you know what? I'm still human…which means that interacting with people is a necessary part of my existence. What have I done to remedy this? Well, first off I'm trying to be more intentional about spending time with people I really enjoy, and I've also been spending time interacting with my lovely followers in the Twitter-verse and through various online groups I'm part of. I also got a new pen-pal which is awesome x 1000. What have I learned from this? Spending time with people who make you happy makes spending money a whole lot less of a priority. Because people are awesome! In small and manageable doses. Now, February is only half-way done so I'm hoping and praying that I'm actually able to stick to this scheme, but we'll see. I have fallen off the "eating out" bandwagon once already, but generally it's going super well and I feel better balanced. Have any of you ever done a spending freeze? Let me know how it went in the comments!